Best Yacht Dealers & Brokers Philippines
Boat Builders & Shipyards Directory: Finding the Best Professionals in the Philippines
310 total views, 1 views today
The Philippines is a prime destination for yachting enthusiasts, thanks to its stunning coastline, pristine waters, and tropical weather. If you're planning to buy a yacht or looking for a brokerage service to help you navigate the local market, you'll need to find the best yacht dealers and brokers in the Philippines.
In this guide, we'll share valuable tips on how to find reliable yacht dealers and brokers in the Philippines, as well as the most popular yacht brands in the market. By the end of this article, you'll be better equipped to make informed decisions and get the best value for your investment.
Sunseeker Yachts is a British yacht manufacturer renowned for its sleek and elegant designs. Their yachts feature cutting-edge technology, exceptional performance, and world-class comfort, making them a popular choice among discerning yacht buyers in the Philippines.
Azimut Yachts is a leading Italian yacht manufacturer known for its luxurious and innovative designs. Their yachts are built to the highest standards of performance, comfort, and style, and are highly sought after in the Philippine market.
Princess Yachts is a British luxury yacht brand that has been building high-quality vessels for over 50 years. Their yachts are renowned for their exceptional craftsmanship, innovative design, and unparalleled performance, making them one of the most sought-after yacht brands in the Philippine market.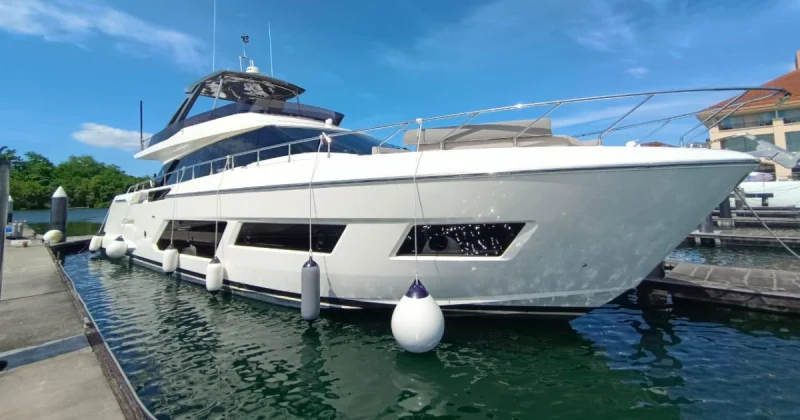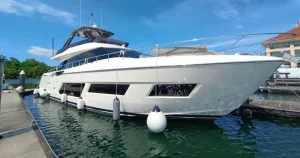 667 total views
The 2020 Ferretti 670 yacht is a luxurious vessel that was designed and built to celebrate the 50th anniversary of the Ferretti Group in style. This yacht is the result of a partnership between the Ferretti Group Product Strategy Committee and the Engineering department, and it features both external design by Ferretti Group and architect Filippo Salvetti, as well as interiors created by the Group's own architects and designers.
Read More »
CHOOSING THE BEST YACHT DEALER
Ask for Recommendations
One of the best ways to find reliable yacht dealers and brokers in the Philippines is to ask for recommendations from friends or acquaintances who have purchased or sold yachts in the past. They can provide first-hand accounts of their experiences with different dealers and brokers, including the level of service, professionalism, and pricing.
Research Online
The internet is a valuable resource for finding yacht dealers and brokers in the Philippines. Look for websites of local yacht dealerships and brokers, and check out their inventory, customer reviews, and service offerings. You can also use search engines to find reviews and ratings from past clients.
Attend Yacht Shows and Exhibitions
Yacht shows and exhibitions are great places to meet reputable yacht dealers and brokers in the Philippines, and get a firsthand look at the latest models and trends in the market. Attend these events to network with industry professionals and explore your options.
Check for Certifications
When looking for yacht dealers and brokers in the Philippines, make sure to check for certifications and licenses. These credentials are a testament to their expertise, professionalism, and commitment to quality service.